Before you pursue a career in a certain field, it makes sense to first understand what the industry is all about. In the case of a logistics career, the industry is defined as the "overall process of managing how resources are acquired, stored and transported to their final destination." ("Logistics" Investopedia). It includes finding distributors and suppliers, keeping an eye on effectiveness and ready access to the services that make it possible to move goods one place to another.
Military Logistics
What started as a military service specifically regarding the movement of troops and the acquisition, storage and delivery of supplies no encompasses a wide variety of applications in the commercial arena, especially in the management of supply chains.
The goal of the logistics industry is to ensure the right amount of transported goods moves from where it starts to where it's needed at the right time and in good condition. Fulfilling each customer order means moving products from one phase of a supply chain to the next with maximum efficiency.
The complexity of logistics had steadily risen since the 1960's when it became an identifiable branch of commercial activity. The globalization of economies coupled with the onset of enormous technological advances have created new roles and challenges for logistics workers. More than ever, manufacturers and retailers have turned to outsourcing their logistics operations to dedicate third party companies like Port City Logistics.
The primary tasks of a logistician are overseeing the transportation and storage of inventories by coordinating the various parts of the process, like moving goods from an oceangoing freighter, to a warehouse, then overland by truck or rail to a distribution center, retailer, manufacturer or other consumer of the product that is being moved.
What education is needed to work in the logistics industry?
According to Study.com, there are four types of degrees you can pursue that will make you qualified for certain careers in the logistics industry.
Associate's Degree- Typically, associate's degrees related to logistics can be finished in two years. Upon receiving this type of degree, you will be qualified for entry-level jobs that usually involve warehousing and transportation.
Bachelor's Degree- This is the degree you will need if you eventually want a job in supply chain management and other higher levels of responsibility. Usually it takes the form of a Bachelor of Science in Business Administration degree with a concentration in logistics. Course material covers mathematical skills, business management, accounting and project management.
Master's Degree-  After a Bachelor's, many upper level managers go on to earn an MBA in some aspect of a logistics career that allows them to apply that expertise to a wider scope.  
There are opportunities for earning a PhD in supply chain and logistics or a DBA (Doctor of Business Administration) that prepares one for a academic roles in addition to high level management.
Alternatively, LogisticsDegree.net notes that certificate programs related to logistics are also available. Undergraduate certificates are made available to hopeful industry entrants with a high school diploma or a GED, while graduate certificates are given to students who are already in possession of a bachelor's degree.
Here in Savannah we have a special logistics education program for high school students that places them in after-school internship positions with a number of  port and logistics related businesses. The Maritime Logistics Education Task Force plays a central role in recruiting younger people from the local area to try out a job in the booming field of logistics.
Military Logistics Experience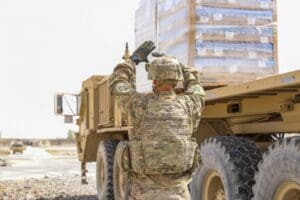 You may also qualify for a career in the logistics industry if you have military experience. Supply Chain Digital notes that the practical experience a person can receive from being involved in military logistics or transportation operations for at least four years can qualify them for a job at a private company, in some cases managerial positions.Port City Logistics welcomes former service members to apply and bring their logistics experience straight across to our facilities.
What careers are available in the logistics industry?
As noted earlier, the careers that will be made available to you in logistics will depend in part on your level of education and your experience.
If you simply want to get your foot in the door and don't really have the time or money to invest in going after a degree first, you might consider a position in customer service. Warehouse personnel, guards and driver are other points of entry into the field. If you're someone who can learn on the job quickly, then an entry-level position could set you on the road to bigger and better opportunities.
Roles needed in logistics operations
According to International Student… 
Analyst
This is most common entry-level assignment for those entering the field. An Analyst gathers data that reveal problems or lead to efficiencies in the operations of the company. They look at how current methodologies and relationships need change, assess the impact of those changes, and document how those changes should occur. Creating or revising operating procedures and monitoring industry trends help the logistics company plan for the future and execute responses to change. Many times the data is statistical and an analyst must know how to translate numbers into problems and solutions that can be carried out by other stakeholders.
Logistics engineer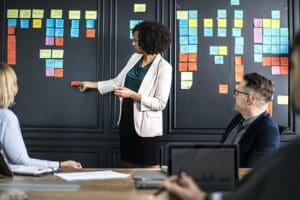 In addition to evaluating supply chain systems for trends and problems, a Logistics Engineer is able to take a recommended solution and carry it out in the field. Project management is a vital skill for logistics engineers as they carry out solutions in systems that continue to function. It's a subset of the discipline of systems engineering, defined as the science and process that allows organizations to measure and control for reliability, maintainability and availability. Mathematical models help determine present situations and their improvement.
International Logistics Manager
With multiple players involved in global transportation, from manufacturers to governments to port officials, this role serves to connect and gain positive relations with all partners involved. Compliance with ever-changing customs laws, local and international regulations, insurance requirements and so forth is managed under this role.
Supply Chain Manager
Managing a complex individual supply chain can be a challenge, and some logistics companies hire a supply chain manager for large accounts to make sure that all aspects of the movement of goods stays high quality at low cost. They negotiate shipping contracts, communicate with the multiple parties involved, coordinate regulatory compliance, troubleshoot problems in the system and keep customers apprised of their shipments.
There are other various financial, marketing and business development roles to take on as is the case with many types of business. There are also hundreds of other jobs associated with logistics in a port area, like dockworkers, crane operators, security personnel, drayage drivers, facility managers, forklift operators and more.
What are some examples of salaries in logistics?
Salaries will obviously vary depending on what kind of position you have in the industry, but to give you an idea of what to expect, the median annual earnings for a professional logistician is somewhere around $74,000.
To give you more numbers to chew on, PayScale has more average salaries for logistics careers in the industry.
For entry level positions, the salaries are expectedly on the low end. A customer service representative earns an average of $13.50 per hour. Truck drivers might expect $20 per hour or so, although that is going up due to a shortage of qualified truck drivers.
Logistics coordinators, specialists, warehouse supervisors or managers find their average salary range to be around $44,000 to $51,000
Operations and logistics managers earn between  $60,000 and $63,000
A supply chain manager can expect around $78,000 per year.
Keep in mind that the logistics industry is in a growth period and most pay scales are lifting in response to demand for labor and a shifting regulatory climate.
Logistics careers projections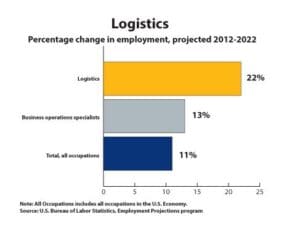 An article published by Rasmussen College highlights the recent and potential growth in the logistics industry. It cited a study that showed that in 2015 U.S. companies spent approximately $1.48 trillion on logistics, up 2.6 % from 2014, and that was a slowdown year. That dollar figure points to how massive the industry has already become, but also to how much potential for growth it still possesses. Also from supplychaindrive.com:
The global logistics market, in terms of revenue, is set to expand from US$8.1 trillion in 2015 to US$15.5 trillion by 2023, registering a CAGR [Compound Annual Growth Rate] of 7.5% from 2015 to 2024. By volume, the market is expected to clock in a 6.0% CAGR from 2016 to 2024.
Numerous positions are open currently in logistics, and it's hard to see the industry downsizing anytime soon. Now is a good time to explore your options in the logistics industry, especially a career at Port of Savannah with Port City Logistics. The Georgia Ports Authority reports record growth across the entire facility in 2018, another in a string of fast-paced growth years.
WORK WITH US
We are always looking to hire the best. Join Port City Logistics and be a part of a company that treats our team and customers with honesty and respect.